INOC's Cloud Platform offers flexible cloud resources in a pay-as-you-grow model providing all the benefits of a traditional network and compute, with the benefits of using our scalable and secure cloud infrastructure. As your needs grow we simply provide more resources.
Built upon Cisco Enterprise class compute and networking systems, the core of our virtualization platform is VMware ESX and VMware's NSX, VSAN technologies. Tightly integrated, these allow INOC to provide best-in-class cloud services.
From single public cloud servers to Virtual Private Cloud (VPC), we have you covered.
Networking is software-defined and policy driven, segmented using VXLAN ensuring L2 isolation. As a very basic example below, one or more Cloud Instance's are directly connected to the Edge Gateway with a public IP address and segmented via VXLAN preventing intra-LAN communication (policy driven). In this configuration, each instance is publicly accessible via the internet.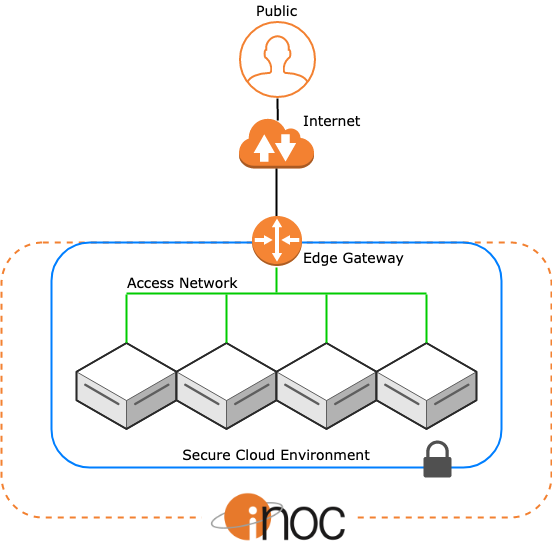 More complex environments and tenancies can be easily achieved with dedicated Edge Gateways, VPN policies (IPsec) or virtualized VPN appliances (FortiGate, ASA, etc). Connections to public cloud providers is also possible with an NNI connection to the respective vendor.